Meri Althauser,  President

Meri is a Missoula native and operates the solo practice Forward Legal, PLLC providing family law and mediation services.  Before opening Forward Legal, Meri was a partner with Montana Legal Justice, a public interest law firm operating on a sliding scale fee structure, and an associate with Phillips Haffey, PC, working on a variety of insurance and civil defense issues.  Meri has a background in social work and child advocacy, and graduated with honors from the University of Montana School of Law in 2011.  She is admitted to practice in all Montana State and Federal courts, is a former chair of the Western Montana Pro Bono Committee.  She lives with her husband, two children, and therapy dog Trapper (who is a terrible legal assistant) in Missoula, and also manages a local fitness studio, Monkey Bar Gym Missoula.
Contact Meri at:
Forward Legal, PLLC
415 North Higgins, Suite 1
Missoula, MT 59802
(406) 325-7100
president@westernmtbar.com
---
Hannah Stone, Immediate Past President
Hannah was born in Libby, Montana, and grew up outside Yosemite. While in law school, Hannah was an intern for Milodragovich, Dale & Steinbrenner, participated in the Junior Partner Program, and was a Women's Law Caucus member. She has appeared in Justice, District and Federal Courts. Hannah's practice focuses on workers' compensation, personal injury and general civil litigation for both plaintiffs and defendants.
In addition to practicing law, Hannah is a board member for Children's Museum Missoula, a non-profit organization empowering families with parent education and learning through play at the Children's Museum. She has been the Secretary for the Western Montana Bar Association since 2012.  Hannah and her husband, David, have 2 children.
Contact Hannah at:
Milodragovich, Dale and Steinbrenner, PC
620 High Park Way
P.O. Box 4947
Missoula, MT 59806
(406) 728-1455
hstone@bigskylawyers.com
---
---
Beth Hayes, Vice-President
Beth Hayes is a staff attorney with Montana Legal Services Association (MLSA), and works primarily with MLSA's Foreclosure Assistance Project. Beth Hayes received her J.D. from the University of Montana School of Law in 2009. Ms. Hayes has previously worked as a Triage Staff Attorney and Equal Justice Works AmeriCorps Fellow at MLSA.

Contact Beth at:
Montana Legal Services Association
211 N. Higgins Ave. Suite 401
Missoula, MT 59802
(406) 543-8343, ext. 202
vicepresident@westernmtbar.com
---
Carey Schmidt, Treasurer
A Montana native, Carey Schmidt has over a decade of experience litigating complex and contentious civil matters.  Carey has litigated countless insurance coverage, personal injury, construction, employment, real estate, environment regulatory, foreclosure, and discrimination matters in Federal and State Courts and before administrative boards of the State.
Carey has experience on both sides of the "vs." representing Plaintiffs as well as Defendants.  Carey has acted as a successful mediator.  In addition to litigating, Carey helps his clients avoid litigation by drafting contracts and thoughtfully orchestrating transactions.  Some lawyers get in the way of business.  Carey is a catalyst for getting deals done.
Carey was a shareholder in a large insurance defense firm before moving to this client-focused practice and has tried many cases to verdict, including prosecuting criminal cases for Missoula County.  He was the publication editor for the Public Land and Resources Law Review and earned his Juris Doctorate in 2005 from the University of Montana School of Law.  He earned his Bachelor of Science from Willamette University in Salem, Oregon in environmental science, with minors in religion and geography.  He has experience in environmental consulting and technical science.
Carey serves as the Treasurer for the Western Montana Bar Association, and a member of its executive committee. His memberships include the State Bar of Montana, the American Bar Association, and the Defense Research Institute. Mr. Schmidt is admitted to practice in all State and Federal courts in Montana.
Mr. Schmidt is a Director for the Westslope Chapter of Trout Unlimited and is a past president.  He is an avid outdoorsman and enjoys spending time with his lovely wife and two beautiful children.
Contact Carey at:
Schmidt Law Firm, PLLC
1917 South Higgins Avenue
Missoula, MT 59801
(406) 552-1450
treasurer@westernmtbar.com
---
Travis Dye, Secretary
Travis Dye is a third-generation Montanan, born in Billings and raised in Missoula and Helena. He graduated from Hellgate High School in Missoula after which he attended Seattle University and the University of Montana.  Travis received his BA in Political Science and Sociology (emphasis in Criminology) from the University of Montana in 1997 and his law degree in 2001.
During law school, Travis was a staff member and co-editor-in-chief of the Montana Law Review and served as an intern at the Missoula County Attorney's Office. Following graduation, he spent two years as a law clerk to the Honorable Donald W. Molloy, then-Chief Judge of the United States District Court for the District of Montana.
After his clerkship, Travis spent four years at a Missoula firm that specializes in insurance defense work. He joined Kalkstein & Johnson in June 2007.  In December 2010, Travis became a partner and the firm name was changed to Kalkstein, Johnson & Dye.  He enjoys writing short biographies about himself (not!), biking, hiking, soccer, skiing, and many other activities outside of the law.
Contact Travis at:
Kalkstein, Johnson & Dye, P.C.
225 Adams
P.O. Box 8568
Missoula, MT 59801
(406) 721-9800
secretary@westernmtbar.com
travis@kalksteinlaw.com
---
Adam Shaw, Director
Originally from Prescott, Arizona, Adam received his Bachelor's Degree from Arizona State University in 2006. He earned his Juris Doctorate from the University of Montana School of Law in May, 2010. Adam practiced in Dillon, Montana for four years before joining Brown Law Firm in 2014. While practicing in Dillon, Adam handled a variety of matters including complex civil defense litigation, insurance coverage disputes, real estate transactions, criminal law, and family law matters. He also served as President of the Fifth Judicial District Bar Association and served on the board for the Fifth Judicial District CASA (Court Appointed Special Advocates). His practice focuses on civil defense litigation. Adam is admitted to practice law in both State and Federal Courts in Montana.
Contact Adam at:
Brown Law Firm, PC
269 West Front Street, Suite A
Missoula, MT 59802
(406) 830-3248
ashaw@brownfirm.com
---
Dave Steele, Director
Dave Steele was born and raised in Colorado. Dave received his B.A. in Political Science from Fort Lewis College in Durango, Colorado, and earned his Juris Doctor from the University of Montana School of Law in 2008.
While attending law school in Missoula, Dave Steele worked as a prosecutor for the Missoula City Attorney's office, and clerked for both the Honorable Robert H. Whaley, U.S. District Court Judge, Eastern District of Washington, and for the Honorable Jeremiah C. Lynch, U.S. Magistrate Judge, District of Montana, as a clinical intern. He is currently a Shareholder at Geiszler Steele, PC. His practice includes advising clients about business and commer­cial transactions and litigation, real estate and property trans­actions, construction contracts and disputes, wills, trusts and estates, and other civil litigation matters.
Prior to his legal career, Dave was a professional mountain and river guide, worked as a mountaineering and climbing instructor and ski patroller in Colorado, Utah and California, and as program manager for the Colorado Outward Bound School's international sea kayaking program in Baja California Sur, Mexico. Dave also serves on the Board of Directors for the Wild Rockies Field Institute, which offers academic field-based education in the American West, and seeks to foster the next generation of leaders and environmental stewards capable of addressing complex social and environmental issues. Dave greatly enjoys spending time outdoors with his friends and family.
Contact Dave at:
Geiszler Steele, PC
619 SW Higgins Avenue, Suite K
Missoula, MT 59803
(406) 541-4940
steele@lawmissoula.com
---
Randy Tanner, Director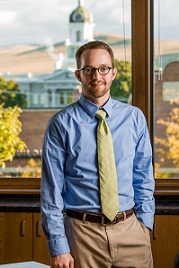 Randy has been an associate in Boone Karlberg, P.C.'s litigation group since 2013. Randy's practice consists primarily of complex civil litigation and state and federal appeals. During law school, Randy was Co Editor-in-Chief of the Montana Law Review and a member of the National Moot Court Team. Randy clerked for the Honorable Sidney R. Thomas of the United States Court of Appeals for the Ninth Circuit and the Honorable Donald W. Molloy of the United States District Court of the District of Montana.
Contact Randy at:
Boone Karlberg, P.C.
Central Square Building
201 West Main Street, Suite 300
Missoula, MT 59802
(406) 543-6646
rtanner@boonekarlberg.com
---
Katy Stack, Director
Katy Stack grew up in Missoula, Montana and graduated from the University of Montana School of Law in 2010.  Upon graduation, Katy served as a judicial law clerk for two federal judges: United States Magistrate Judge Keith Strong in Great Falls from 2010-2012 and Chief United States District Judge Dana L. Christensen in Missoula from 2012-2014.  Katy also earned valuable trial experience interning at the Missoula County Attorney's Office from 2009-2010.  Away from the office, Katy enjoys spending time with her family and playing and coaching volleyball.
Contact Katy at:
Stack & Kottke, PLLC
234 East Pine Street
Missoula, MT 59802
(406) 284-1860
katy@stackandkottke.com